Combat Capability [42%]
,
Role and Missions
,
Structure of the Navy
,
in-service ships
,
surface ships
,
submarines
,
chronology
.
Admiral Chabanenko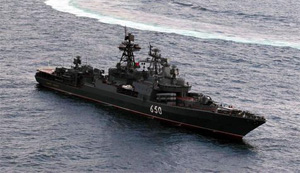 Admiral Chabanenko. Photo from royalnavy.mod.uk
Admiral Chabanenko
is a Project 11551 large ASW ship.
REGISTRATION
Polyarny, Northern Fleet
CONSTRUCTION
The ship was laid down on February 28, 1989 at
Yantar
Shipyard (Kaliningrad) and launched on December 14, 1992. It was commissioned on January 28, 1999.
MILESTONES
First sea trials started in 1995 and lasted till the end of 1998 due to financial obstacles. The ship had multiply participated in international exercises within the Russian Navy's task forces. For example, in December 2008
Admiral Chabanenko
took part in Russo-Venezuelan naval exercise
VENRUS-2008
. On December 6, 2008 it has become first Russian combat ship entered Panama Canal since WW2.
Since December 6, 2011 till February 16, 2012 the ship was on long-range cruise to the Mediterranean Sea maintaining presence of Russian Navy in key regions worldwide.
PERFORMANCE
Propulsion: 2 shaft COGAG – 2 x 9,000 shp cruising gas turbines
GTU M-63
and 2 x 22,500 shp boost gas turbines
GTU M-8KF
Speed: 32 knots, cruising – 18 knots
Endurance: 30 days
Crew: 296 men
DIMENSIONS
Displacement: standard – 7,700 tonnes, total – 8,900 tonnes
Length: 163.4 meters
Beam: 19.5 meters
Mean draft: 5.2 meters, at sonar dome – 7.9 meters
ARMAMENT
Antiship missile system with
Moskit
antiship missiles and
Mineral
target designation system
2
Kinzhal
self-defense SAM systems
2 overhead launchers of
Kortic
air defense missile/gun system
130-mm coupled gun mount AK-130
Vodopad-NK
ASW system
Udav-1
antitorpedo system
2
Ka-27
antisubmarine helicopters.