Combat Capability [42%]
,
Role and Missions
,
Structure of the Navy
,
in-service ships
,
surface ships
,
submarines
,
chronology
.
Kondopoga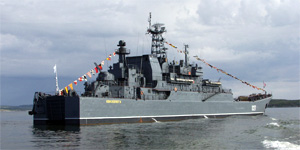 Kondopoga. Photo from forums.airbase.ru
Kondopoga
is a Project 775 Large Landing Ship (LLS)
REGISTRATION
Northern Fleet
CONSTRUCTION, NAME
The ship was built in Gdansk (Poland); commissioned in 1976. Till 1977 the ship's name was
SDK-182
, then
BDK-182
. In 1996 it was renamed into
Kondopoga
in honor of the town of Kondopoga which took patronage over the ship.
MILESTONES
In May 2008 the ship participated in landing demonstration on unprepared coast arranged for trainees of RF General Staff Academy.
Since July 10 through August 29, 2012 the ship was deployed in the Barents, the Norwegian, and the North seas, in the North Atlantic and various parts of the Mediterranean jointly with ships of Baltic, Black Sea, and Northern fleets under general direction of Northern Fleet's Kola Flotilla Commander RADM Vladimir Kasatonov from the board of landing ship
Georgy Pobedonosets
.
PERFORMANCE
Speed: 18 knots
Operational range: 6,000 miles at 12 knots
Crew: 87 men
DIMENSIONS
Displacement: 4,080 tonnes
Length: 112.5 meters
Beam: 15 meters
Draft: 3.7 meters
PROPULSION
CODAD powerplant, two screws, total power is 19,200 shp
ARMAMENT
2 coupled 57-mm gun mounts
AK-725
2 launchers of MLRS
A-215 Grad-M
4 launchers of MANPADS
Strela-2
Capacity is up to 500 tonnes of armor vehicles and 225 marines