Combat Capability [42%]
,
Role and Missions
,
Structure of the Navy
,
in-service ships
,
surface ships
,
submarines
,
chronology
.
Korolev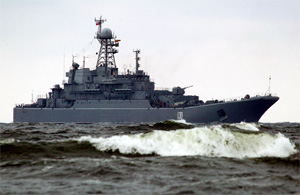 Korolev. Photo from navsource.narod.ru
Korolev
is a Project 775M Large Landing Ship (LLS).
REGISTRATION
Baltic Fleet
CONSTRUCTION, NAME
The ship was laid down on February 12, 1990 at Gdansk shipyard (Poland) under the name of
BDK-61
; launched on November 16, 1990; commissioned on January 5, 1992. The ship was renamed into
Korolev
on December 28, 1999.
MILESTONES
Since March 23, 1992 till September 19, 1994 the ship took part in withdrawal of Russian military contingent from Baltic countries and Poland.
In 1994 and 1995 it participated in St. Petersburg naval parade associated with Russian Navy Day.
In 1995 the ship represented Russia at international naval parade of anti-Nazi allies held in Netherlands in honor of 50th anniversary of the Victory in WW2.
In 1995, 1996, 1997, 1998, 1999 being a part of landing craft division, it won Navy Commander's Prize for landing assault.
In 1992-1999 it was ranked as the best ship of BF 71st landing craft brigade for combat training and military discipline.
PERFORMANCE
Speed: 18 knots
Operational range: 6,000 miles at 12 knots
Crew: 87 men
DIMENSIONS
Displacement: 4,080 tonnes
Length: 112.5 meters
Beam: 15 meters
Draft: 3.7 meters
PROPULSION
CODAD powerplant, two screws, total power is 19,200 shp
ARMAMENT
2 launchers of MLRS
UMS-73 Grad-M
2 air defense artillery systems
AK-630M
AK-176
multipurpose gun mount
6 anti-subversive grenade launchers
Capacity is up to 500 tonnes of armor vehicles and 225 marines