Combat Capability [42%]
,
Role and Missions
,
Structure of the Navy
,
in-service ships
,
surface ships
,
submarines
,
chronology
.
Vice Admiral Kulakov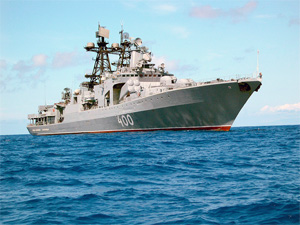 Vice Admiral Kulakov
.
shchyolkovo.ru
Vice Admiral Kulakov
is a Project 1155 large ASW ship.
REGISTRATION
Northern Fleet
CONSTRUCTION, NAME
The ship was laid down on November 4, 1977 at Zhdanov Shipyard No. 190 (now
Severnaya Verf
shipyard) in Leningrad; launched on May 16, 1980; commissioned on February 9, 1982.
MILESTONES
In Nov 3-7, 1988 the ship visited Havana (Cuba).
In 2000 the ship was transferred from Kronshtadt ship repair plant to
Severnaya Verf
shipyard. Prior to that, the ship had been pending repairs for about 10 years.
On Dec 4, 2009 conscript sailor Arthur Kayumov got poisoned with carbon monoxide as a result of underdeck fire. His parents were informed that their son died doing military duties. Navy Commander-in-Chief Admiral Vladimir Vysotsky discharged six officers served on the ship for "breach of the contract". Executive officer, second-in-command, engineer officer, machinery group commander, and two warrant officers lost their posts. Higher rank officials from 13th Maintenance Brigade, Leningrad Naval Base were also punished. Brigade deputy commander for maintenance was reduced in position. The ship's commanding officer and brigade deputy commander received service incompetence notes.
In 2010 two conscript sailors were hazed by old-timers and officers and were about to commit suicide.
In Apr 2010 the
Central Navy Portal
posted the video record of a lesson at Northern Fleet's large ASW ship
Vice Admiral Kulakov
. The instructor beat sailors and threatened bodily harm for mistakes they did, calling them critters and cads.
In 2010
Severnaya Verf
shipyard completed the ship's repair and remanufacturing. Weapons and life support systems were renewed; crew living conditions were considerably improved.
PERFORMANCE AND DIMENSIONS
Max speed: 29.5 knots
Cruising speed: 14 knots
Endurance: 30 days
Crew: 220 men
Full-load displacement: 7,480 tons
Standard displacement: 6,840 tons
Length: 163 meters
Beam: 19 meters
Draft: 7.8 meters
PROPULSION
Dual-shaft plant, 4 gas turbines, 61 000 shp (2 sustainer motors GTU M-70, 8 000 shp each and 2 boost motors GTU M-8KF, 22 500 shp each)
ARMAMENT
2 quadruple launchers of
Rastrub
rocket torpedoes
6-26 mines
8 launchers of
Kinzhal
SAM system (64 missiles)
2 x 100-mm gun mounts
AK-100
4 six-barreled 30-mm machineguns
AK-630M
ASW rocket launchers
RBU-6000
2
Ka-27
helicopters