Combat Capability [42%]
,
Role and Missions
,
Structure of the Navy
,
in-service ships
,
surface ships
,
submarines
,
chronology
.
Admiral Flota Sovetskogo Soyuza Kuznetsov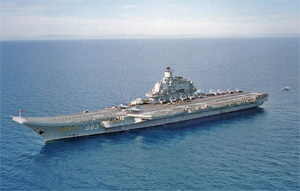 Admiral Flota Sovetskogo Soyuza Kuznetsov. Photo: upload.wikimedia.org
Admiral Flota Sovetskogo Soyuza Kuznetsov
is a Project 1143.5 Heavy Aircraft Carrying Cruiser, the only Russian aircraft carrier.
REGISTRATION
Severomorsk, Northern Fleet
CONSTRUCTION, NAME
The carrier (project name was
Sovetskiy Soyuz
) was laid down at Chernomorskiy (Black Sea) Shipyard on September 1, 1982 having original name of
Riga
and launched on December 4, 1985 with name of
Leonid Brezhnev
. On August 11, 1987 it was renamed as
Tbilisi
and since October 4, 1990 became
Admiral Flota Sovetskogo Soyuza Kuznetsov
. It joined Northern Fleet on January 20, 1991.
MILESTONES
On October 21, 1989 the uncompleted and underequipped carrier was put to sea for flight development tests of deck-based aircraft. First deck landings of
MiG-29K, Su-27K
and
Su-25UTG
were carried out on November 1, 1989. The ship was inactivated for further fitting-out on November 23, 1989. In 1990 it passed multiple sea trials.
In 90-ies the carrier regularly participated in naval exercises and was deployed in the Mediterranean. Since 1996 till 1998 it was under overhaul. In 2000 it took part in exercise where
Kursk
submarine sank; the carrier participated in rescue operation.
Since 2001 till 2004 it was under repairs. In 2004 the aircraft carrying cruiser took part in one-month cruise to the North Atlantic. In the period of 2005-2007 it took the sea several times a year. On December 5, 2007 it headed task unit in the cruise to the Atlantic and Mediterranean Sea which ended on February 3, 2008.
The carrier was under overhaul till December 2008.
Since December 6, 2011 till February 16, 2012 the ship was on long-range cruise to the Mediterranean Sea maintaining presence of Russian Navy in key regions worldwide.
PERFORMANCE
Speed: 29 knots
Endurance: 45 days
Crew: 1960 men
Power of steam turbines: 4 x 50,000 hp
Power of turbo generators: 9 x 1,500 KW
Power of diesel generators: 6 x 1,500 KW
DIMENSIONS
Length: 302.3 meters
Waterline length: 270 meters
Beam: 72.3 meters
Waterline beam: 35.4 meters
Draft: 9.14 meters
Standard displacement: 43,000 tonnes
Total displacement: 55,000 tonnes
Maximum displacement: 58,600 tonnes
ARMAMENT
The carrier is armed with missile launchers (12 Granit antiship missiles and 60
Udav-1
ASW rockets),
Klinok
SAMS (192 missiles, 24 launchers) and
Kashtan
CIWS (256 missiles). The cruiser is capable to carry up to 24
Ka-27
multipurpose helicopters, up to 16
Yak-41M
supersonic VTOL multirole aircrafts and up to 12
Su-27K
deck-based fighters.