Combat Capability [42%]
,
Role and Missions
,
Structure of the Navy
,
in-service ships
,
surface ships
,
submarines
,
chronology
.
Makhachkala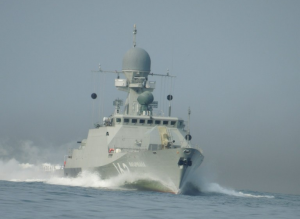 Makhachkala
.
vk.com/club10440809
Makhachkala
(hull number 163) is a Project 21630
Buyan
'river-sea' class corvette designed for reinforcement of Caspian Flotilla in littoral sea and river zone.
REGISTRATION
Caspian Flotilla, Astrakhan
CONSTRUCTION
Corvette
Makhachkala
is the third and the last Project 21630
Buyan
ship built by the
Almaz Shipbuilding Firm
for Russian Navy. The ship was laid down in March 2006 and launched in April 2012. After a certain delay in delivery of the 100-mm gun mount, corvette
Makhachkala
finished state trials in October 2012.
MILESTONES
Acceptance certificate was signed at the
Almaz Shipbuilding Firm
on December 4, 2012. The Flag of Russian Navy was hoisted at the ship on March 2, 2013.
PERFORMANCE
Speed: 28 knots
Operational range: up to 1,500 nautical miles
Crew: 29-36 men
DIMENSIONS
Displacement: 500 tons
Length: 62 meters (at design waterline)
Beam: 9.6 meters (at design waterline)
Draft: 2 meters
POWERPLANT
CODAD two-shaft diesel powerplant
ARMAMENT
Navigation aids: MR-231 radar,
Sigma
tactical data system
Radars:
Pozitiv-M
radar, 5P-10
Laska
radar for gun mount and antiaircraft artillery
Electronic warfare: 2 x 10 PK-10
Smely
decoy launchers
Artillery: 100-mm gun mount A190-01
Universal
, 2 x 6 gun mounts AK-306, 2 x 1 14.5-mm machineguns MTPU, 1 x 40 122-mm MLRS A-215
Grad-M
Antiaircraft missile armament: 1 x 4 launchers 3M47
Gibka
with antiaircraft missiles
Igla
or
Igla-S