Combat Capability [42%]
,
Role and Missions
,
Structure of the Navy
,
in-service ships
,
surface ships
,
submarines
,
chronology
.
Mordovia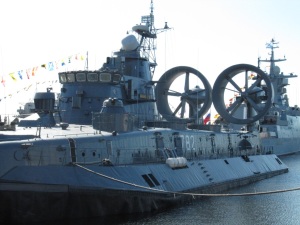 Air-cushion landing ship
Mordovia
Mordovia
(serial number 103) is a Project 12322
Zubr
air-cushion landing ship. The ship is designed for taking aboard landing parties and combat vehicles from prepared or unprepared coast, sea lift, landing them ashore and providing fire support. In addition, the ship is capable to carry and lay mines. Thanks to design features of the air cushion, the ship is capable to move on the land bypassing minor obstacles (ditches, trenches) and minefields, move on bogs and land troops in enemy's rear.
REGISTRATION
Baltic Fleet
CONSTRUCTION
The ship was built by the
Primorsky Shipyard
(current name
Almaz Shipbuilding Firm
).
MILESTONES
The ship was commissioned into Baltic Fleet on October 15, 1991 as MDK-94, and renamed into
Mordovia
on March 12, 2001.
PERFORMANCE
Speed: 60 knots
Operating range: 300 nautical miles
Crew: 27 men
DIMENSIONS
Displacement: 555 tons
Length: 57.3 meters
Beam: 25.6 meters
Draft: 1.6 meters
POWERPLANT
4 x 100-kW gas turbine generators
ARMAMENT
2 x 140-mm rocket projectile launchers A-22
Ogon
(combat load – 66 projectiles) with fire control system
2 x 30-mm automatic gun mounts AK-630 (combat load – 3,000 shells) with fire control system MR-123-02
8 MANPADS
Igla