Combat Capability [42%]
,
Role and Missions
,
Structure of the Navy
,
in-service ships
,
surface ships
,
submarines
,
chronology
.
Mitrofan Moskalenko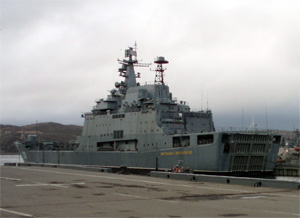 Mitrofan Moskalenko. Photo by Ñarpenco from photofile.ru
Mitrofan Moskalenko
is a Project 1174 Large Landing Ship (LLS).
REGISTRATION
Northern Fleet
CONSTRUCTION, NAME
The ship was laid down in May, 1984 at
Yantar
shipyard (Kaliningrad). The construction was resumed in 1988. The ship was commissioned in March, 1991.
MILESTONES
The ship had 4 helicopters Ka-29 onboard. In 1990, the ship headed around the Scandinavian Peninsula for Severomorsk and became flagship of Northern Fleet 37-th Landing Ship Division.
Early in 90's, the ship took part in transportation of military cargoes during reduction of Baltic Fleet.
In 1994, the ship joined Atlantic Surface Ship Squadron.
In July 2001, the ship was transferred to NF Kola Flotilla.
In 2002, the ship was deactivated.
In 2006, the ship was decommissioned from Russian Navy.
In 2008, the ship was put up for sale.
PERFORMANCE
Speed: 19 knots
Operational range: 6,000 miles
Crew: 239 men
DIMENSIONS
Displacement: 8,260 tonnes
Length: 157 meters
Beam: 23.8 meters
Draft: 6.7 meters
PROPULSION
COGAG, two screws, power is 18,000 shp
ARMAMENT
1 coupled 76.2-mm gun mount
AK-726
Osa-MA
self-defense SAM system
4
Strela-3M
MANPADS launchers
4 x 6-barreled 30-mm gun mounts
AK-630
MS-73 Grad-M
MLRS launcher
4
Ka-29
helicopters
Carrying capacity is 440 marines and 79 armor vehicles