Combat Capability [42%]
,
Role and Missions
,
Structure of the Navy
,
in-service ships
,
surface ships
,
submarines
,
chronology
.
MPK-199 Kasimov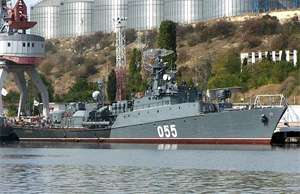 MPK-199 Kasimov. Photo by A. Brichevsky (flot.sevastopol.info)
MPK-199 Kasimov
is a Project 1124M Small ASW Ship (SAS).
REGISTRATION
Black Sea Fleet
CONSTRUCTION, NAME
The ship was laid down on February 20, 1984 at
Leninskaya Kuznitsa
shipyard (Kiev); launched on December 7, 1985; commissioned on November 5, 1986. It had a name of
Komsomolets Armenii
since December 27, 1985 till February 15, 1992. The ship obtained a name of
Kasimov
in 2001.
MILESTONES
On August 8, 2008 during South Ossetian conflict the ship being a part of BSF task unit was detached to CIS force at Georgian-Abkhazian conflict zone.
In 2008 it patrolled assigned maritime zone when participated in international operation Black Sea Harmony.
PERFORMANCE
Speed: 35 knots
Operational range: 2,700 miles
Crew: 89 men
DIMENSIONS
Displacement: 930 tonnes
Extreme length: 71.07 meters
Extreme beam: 10.15 meters
Extreme draft: 3.71 meters
PROPULSION
Diesel gas turbine
M-8M
18,000 shp gas turbine
GTU-8
2 diesels
M-507A
, total power 20,000 shp
3 diesel generators (
DG-500, DG-300, DG-200
), total power 1,000 kW
ARMAMENT
76-mm gun mount
AK-176
30-mm gun mount
AK-630M
Osa-M
SAM launcher
2 coupled 533-mm torpedo tubes
RBU-6000
antisubmarine rocket launcher
12 depth bombs or 18 mines