Combat Capability [42%]
,
Role and Missions
,
Structure of the Navy
,
in-service ships
,
surface ships
,
submarines
,
chronology
.
MPK-228 Bashkortostan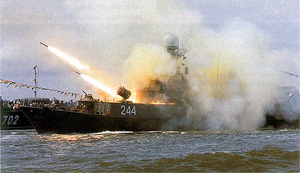 Project 1331M ship. Photo from atrinaflot.narod.ru
MPK-228 Bashkortostan
is a Project 1331M Small ASW Ship (SAS).
REGISTRATION
Baltic Fleet
CONSTRUCTION, NAME
The ship was laid down on November 20, 1987 at Peene-Werft shipyard (Wolgast, GDR); launched on October 31, 1988; commissioned on October 31, 1989. The ship obtained a name of
Bashkortostan
on September 2, 1999 as Republic of Bashkortostan took patronage over her.
MILESTONES
In April 2005 the ship's crew received 20 tonnes of gifts from
Bashkortostan
.
On February 7, 2007 compressed air exploded on board the ship based in Baltiysk. An extremely hard fire was extinguished by 13 fire trucks and Baltic Fleet's fireboat. Ship's deckhouse, deck midsection, cookroom, and armory were damaged in consequence of the fire outbreak.
Decommissioned in May 2010.
PERFORMANCE
Speed: 24.5 knots
Operational range: 2,200 miles at 12 knots
Crew: 80 men
DIMENSIONS
Displacement: 935 tonnes
Extreme length: 75.2 meters
Extreme beam: 9.78 meters
Extreme draft: 2.8 meters
PROPULSION
3 diesels
M-504A
, total power 14,250 shp
ARMAMENT
2 MANPADS
Strela-3
or
Igla-1
launchers
16 antiaircraft guided missiles
9M32M
or
9M313
76-mm gun mount
AK-176
30-mm 6-barelled gun mount
AK-630
2 coupled 533-mm torpedo tubes
2
RBU-6000 Smerch-2
antisubmarine rocket launchers
96
RGB-60
depth charge rockets
2 release tracks