Combat Capability [42%]
,
Role and Missions
,
Structure of the Navy
,
in-service ships
,
surface ships
,
submarines
,
chronology
.
Nastoichivy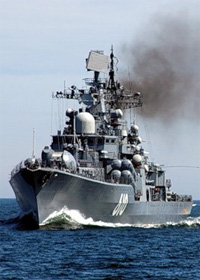 Nastoichivy
.
fotki.yandex.ru
Nastoichivy
is a Project 956 destroyer.
REGISTRATION
Baltic Fleet
CONSTRUCTION, NAME
The ship was laid down in 1988 at Zhdanov Shipyard No. 190 (now called
Severnaya Verf
) in Leningrad; launched in 1990; commissioned on March 27, 1993.
MILESTONES
In 1993 the ship passed through the Kiel Canal for the first time in Soviet/Russian Navy's history.
In July 1994 the ship called at French port Rouen.
Since 1994 the ship has been under patronage of the Federation Council [Russian parliament's upper chamber].
In 1994, 1996, 1997 the ship won in the Navy Air Defense Contest.
In June 1996 the ship took part in
BALTOPS
international naval exercise.
In summer 1996 the ship was visited by Boris Yeltsin, in summer 2000 Ц by Vladimir Putin.
The best ship of Russian Navy in 1996 and 1997.
In 1997 the ship was demonstrated at international defense show in Abu-Dhabi, UAE.
In 1996-1999 the ship won in annual Navy Artillery Firing Contest.
In 2000, 2001 the ship within a strike group took the first place in the Navy combat training exercise.
PERFORMANCE
Speed: 32 knots
Crew: 296 men
Endurance: 30 days
DIMENSIONS
Standard displacement: 6,500 tons
Full load displacement: 7,940 tons
Length overall: 156.5 meters
Beam overall: 17.2 meters
Draft: 5.96 meters
PROPULSION
2 x 50,000 shp steam turbines GTZA-647; 2 fixed pitch propellers
ARMAMENT
2 coupled gun mounts
AK-130/54
4 x 30-mm six-barreled gun mounts
AK-630
2 quadruple launchers of
P-270 Moskit
antisurface cruise missile
2 six-barreled antisubmarine rocket launchers
RBU-1000
2 SAM systems
Shtil
2 coupled 533-mm torpedo tubes
Ka-27
helicopter