Combat Capability [42%]
,
Role and Missions
,
Structure of the Navy
,
in-service ships
,
surface ships
,
submarines
,
chronology
.
Neustrashimy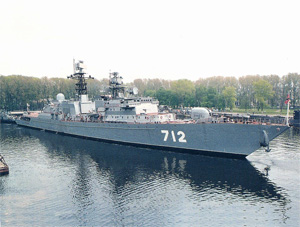 Neustrashimy. Photo from kombrig20.homestead.com
Neustrashimy
is a Project 11540
Yastreb
Frigate.
REGISTRATION
Baltiysk, Baltic Fleet
CONSTRUCTION, NAME
The ship was laid down on March 25, 1987 at
Yantar
Shipyard; launched on May 25, 1988; commissioned on December 28, 1990; joined Baltic Fleet on March 14, 1991.
MILESTONES
The ship multiply participated in naval exercises, including
BALTOPS
joint RF-NATO exercise in 1994, 2002, 2004, 2006, 2007 and 2008.
In 2003 the frigate secured Russian delegation at the visit of President of the Russian Federation V. V. Putin to London.
In 2004 the ship was deployed in the Mediterranean, in 2005 – in Norwegian Sea.
In 1994 the frigate won the Prize of Navy Commander-in-Chief for ASW training; in 1996, 1997 and 1998 – prizes for air defense training; in 1997, 1998 and 1999 – prizes for artillery firing.
On September 24, 2008 the ship was detached to the Gulf of Aden for protection of civil traffic from Somali pirates. During the mission
Neustrashimy
sailed over the Mediterranean Sea and the Red Sea, called at ports of Libya and Yemen. It spent 7.5 months at sea and achieved a Baltic Fleet's record since the Great Patriotic War.
Since July 10 through September 28, 2012, the ship was deployed to the North Atlantic, the North and the Mediterranean seas within the Russian Navy's interfleet task force.
PERFORMANCE
Propulsion: two-shaft
COGAG2
– 2 cruising gas turbines 20,000 shp in total and 2 boost gas turbines 37,000 shp in total
Power: 57,000 hp (total)
Speed: 30 knots; cruising – 18 knots
Endurance: 30 days
Crew: 210 men
DIMENSIONS
Displacement: 3,590/4,350 tonnes
Length: 129.8 meters
Beam: 15.6 meters
Draft: 8.35 meters
ARMAMENT
6 x 533-mm torpedo tubes
2
Vodopad-NK
ASW rocket torpedo systems
RBU-6000
ASW rocket launcher
4
Kinzhal
SAM systems
2
Kortik
air-defense missile/gun systems
100-mm gun mount
AK-100
with
MR-145 Lev
guiding radar
Ka-27
ASW helicopter