Combat Capability [42%]
,
Role and Missions
,
Structure of the Navy
,
in-service ships
,
surface ships
,
submarines
,
chronology
.
Alexander Nikolayev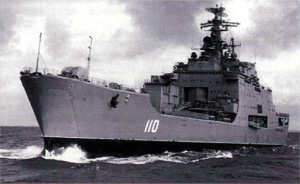 Alexander Nikolayev. Photo from savok.name
Alexander Nikolayev
is a Project 1174 Large Landing Ship (LLS).
REGISTRATION
Pacific Fleet
CONSTRUCTION, NAME
The ship was laid down in March, 1976 at
Yantar
shipyard (Kaliningrad); commissioned in 1982.
MILESTONES
Since October 17, 1983 till February 27, 1984 the ship carried out a cruise to Vladivostok having doubled Europe, Africa and Asia and visited ports of Luanda (Angola), Victoria (Socotra Island), Maputo (Mozambique) and Madras (India).
In 2006, the ship was decommissioned from Russian Navy.
In 2008, the ship was put up for sale.
PERFORMANCE
Speed: 21 knots
Operational range: 4,000 miles
Crew: 250 men
DIMENSIONS
Total displacement: 14,000 tonnes
Length: 157 meters
Beam: 24 meters
Draft: 6.7 meters
PROPULSION
COGAG, two
M8K
gas turbines, two screws
ARMAMENT
Osa-M
SAM launcher
Grad-M
MLRS launcher
76-mm gun mount
AK-726
4 x 30-mm gun mounts
AK-630
May carry up to 50 tanks or up to 80 APCs and ICVs or up to 120 trucks; 3-6 landing cutters of different projects; 4
Ka-29
helicopters
Troop capacity is 500 marines