Combat Capability [42%]
,
Role and Missions
,
Structure of the Navy
,
in-service ships
,
surface ships
,
submarines
,
chronology
.
Novocherkassk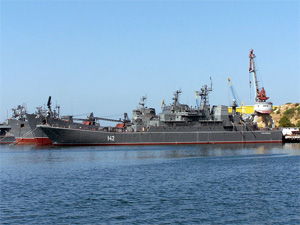 Novocherkassk. Photo by A. Brichevsky (flot.sevastopol.info)
Novocherkassk
is a Project 775 Large Landing Ship (LLS)
REGISTRATION
Black Sea Fleet
CONSTRUCTION, NAME
The ship was built in Gdansk (Poland); launched on April 17, 1987. Initially, the ship was named
BDK-46
; on April 7, 2002 it was renamed into
Novocherkassk
in honor of the city taken patronage over the ship.
MILESTONES
Till 1990 it repeatedly took part in various exercises
Since 1990 till 2007 the ship was on standby
Late 2008 it passed recommissioning trials at Black Sea Fleet. Early 2009 it carried out course task K-1, successfully completed all elements of K-2 and started sea trials.
PERFORMANCE
Speed: 18 knots
Operational range: 6,000 miles at 12 knots
Crew: 87 men
DIMENSIONS
Displacement: 4,080 tonnes
Length: 112.5 meters
Beam: 15 meters
Draft: 3.7 meters
PROPULSION
CODAD
powerplant, two screws, total power is 19,200 shp
ARMAMENT
2 coupled 57-mm gun mounts
AK-725
MANPADS
Strela-2
launchers
Capacity is up to 500 tonnes of armor vehicles and 225 marines