Combat Capability [42%]
,
Role and Missions
,
Structure of the Navy
,
in-service ships
,
surface ships
,
submarines
,
chronology
.
Ochakov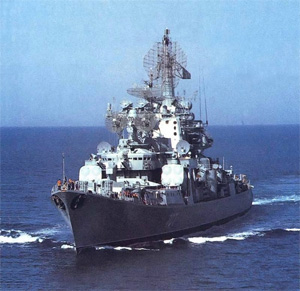 Ochakov. Photo from rustrana.ru
Ochakov
is a Project 1143-B Large ASW Ship.
REGISTRATION
Black Sea Fleet
CONSTRUCTION, NAME
The ship was laid down on December 19, 1969 at Nikolayev 61 Communards Shipyard; launched on April 30, 1971; commissioned on November 28, 1973.
MILESTONES
The ship took part in exercises
Ocean-75
and
Crimea-76
.
The ship was awarded with the pennant of USSR Minister of Defense "For courage and military merits".
The best ship of Soviet Navy in 1977, 1979 and 1986.
She paid numerous visits to following ports:
June 14-19, 1978 – Latakia (Syria)
April 13-18, 1979 – Rijeka (Jugoslavia)
June 11-16, 1979 – Toulon (France)
August 10-13, 1979 – Varna (Bulgaria)
October 20-24, 1986 – Havana (Cuba)
March 26-31, 1987 – Istanbul (Turkey)
October 26-30, 1987 – Split (Jugoslavia)
1989 – Constanta (Romania)
May 8-12, 1990 – Split (Jugoslavia)
June 11-14, 1990 – Taranto (Italy)
Since March 26, 1980 through July 18, 1984 the ship was undergoing complete overhaul at the
Sevastopol Marine Yard
.
In 1991, a new repair period started in Sevastopol, but was not completed due to the breakup of the Soviet Union.
In 1993, the ship was seriously damaged by fire.
In 2004-2005, the ship was planned for commission, but failed.
On 20 October 2008, the ship left
Sevastopol Marine Yard
and was moored in the Troitskaya Harbor, Sevastopol.
On 20 August 2011, Russian naval ensign was hauled down. The ship is to be sold for scrap, the buyer is unknown so far.
PERFORMANCE
Speed: 33 knots
Endurance: 30 days
Crew: 380 men
DIMENSIONS
Displacement: 8,565 tonnes
Length: 173.4 meters
Beam: 18.5 meters
Draft: 7.8 meters
ARMAMENT
2 quadruple
Metel
ASW rocket launchers
Shtorm
SAM launchers
Osa-M
SAM launchers
2 x 2-bareled 76-mm gun mounts
AK-726
4 x 6-bareled 30-mm machineguns
AK-630
2 x 5-container 533-mm torpedo tubes
2
RBU-6000
ASW rocket launchers
2
RBU-1000
ASW rocket launchers