Combat Capability [42%]
,
Role and Missions
,
Structure of the Navy
,
in-service ships
,
surface ships
,
submarines
,
chronology
.
Orsk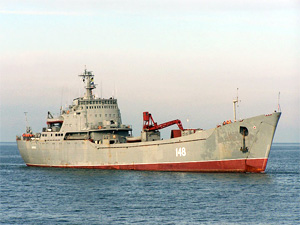 Orsk. Photo by A. Brichevsky (flot.sevastopol.info)
Orsk
is a Project 1171 Large Landing Ship (LLS).
REGISTRATION
Black Sea Fleet
CONSTRUCTION, NAME
The ship was laid down on August 30, 1967 at
Yantar
shipyard (Kaliningrad) under the name of
BDK-69
; launched on February 29, 1968; commissioned on December 5, 1968. The ship was renamed into
Orsk
on October 20, 2002.
MILESTONES
Through its service in the Navy, the ship was deployed 11 times, participated in exercises
Ocean, Yug-71, Krym-79, Zapad-81, Shield-83
.
Being deployed at the zone of conflicts in Middle East, it transported peacekeepers to Yugoslavia; delivered humanitarian cargo to Guinea, Syria, and Bulgaria.
In 1990-ies the ship took part in evacuation of refugees from the zone of Georgian-Abkhazian conflict.
In August 2000 it performed 4 voyages from loading terminal Gonio (near Batumi) to discharge terminal Utrishenok (near Novorossiysk) carrying a part of armament and weapons of Russian force based in Transcaucasia.
In 2004 the ship was laid up for reconditioning repair at Tuapse shipyard. As of late 2008, the ship is being prepared for course tasks before recommission into Black Sea Fleet.
PERFORMANCE
Speed: 16.5 knots
Operational range: 10,000 miles at 15 knots
Crew: 55 men
DIMENSIONS
Displacement: 4,650 tonnes
Length: 113.1 meters
Beam: 15.6 meters
Draft: 4.5 meters
PROPULSION
CODAD powerplant, two screws, power is 9,000 shp
ARMAMENT
1 coupled 57-mm gun mount
ZIF-31B
Capacity is up to 1,500 tonnes of armor vehicles and cargo