Combat Capability [42%]
,
Role and Missions
,
Structure of the Navy
,
in-service ships
,
surface ships
,
submarines
,
chronology
.
Perekop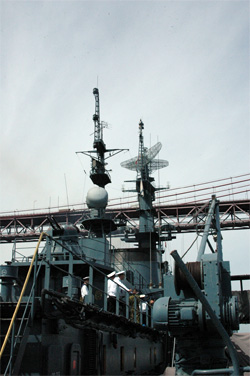 Perekop
Perekop is a Project 887
Smolny
Training Ship.
REGISTRATION
Kronshtadt, Baltic Fleet
CONSTRUCTION
The ship was laid down at Stettin Shipyard (Poland); launched on December 11, 1976; commissioned on November 12, 1977.
MILESTONES
The ship has covered over 400,000 miles in sea and ocean cruises with more than 16,000 cadets on board; visited ports of numerous countries including Great Britain, Finland, Denmark, Holland, Portugal, Latvia, Poland, Yugoslavia, Romania, Germany, France, Italy, Greece, Turkey, Syria, Tunisia, Algeria, Mexico, Colombia, and Cuba.
In 2007 the ship carried out distant cruise Kronshtadt-Novorossiysk-Sevastopol-Kronshtadt, having visited 10 ports of Western Europe, North Africa, and Middle East.
In 2008 the ship carried out distant cruise Baltiysk-Novorossiysk-Sevastopol-Baltiysk, having visited ports of various countries.
PERFORMANCE, DIMENSIONS
Standard displacement: 6,120 tons
Total displacement: 7,270 tons
Length: 138 meters
Beam: 17.2 meters
Draft: 5.5 meters
Speed: 20 knots
Crew: 12 officers, 120 enlisted
For training needs the ship takes about 30 instructors and 300 cadets on board
ARMAMENT
2
RBU-2500
ASW rocket launchers
2 coupled 76-mm gun mounts
AK-726
2 coupled 30-mm gun mounts
AK-230