Combat Capability [42%]
,
Role and Missions
,
Structure of the Navy
,
in-service ships
,
surface ships
,
submarines
,
chronology
.
R-298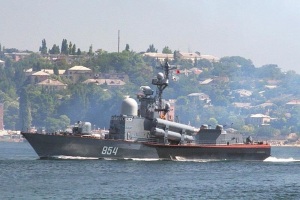 Project 12411 missile boat.
topwar.ru
R-298 (hull number 971) is a Project 12411 missile boat designed for destruction of enemy warships, transport and assult vessels, terrorist groups in the sea and in the bases; protection of ships and vessels from surface and air attacks.
REGISTRATION
Pacific Fleet, 2-nd Missile Boat Division
CONSTRUCTION
R-298 (serial number 919) was laid down at the
Khabarovsk Shipyard
and commissioned on December 31, 1990.
PERFORMANCE
Speed: 41 knots (full)
Fuel range: 400 nautical miles at 36 knots, 1 600 nautical miles at 14 knots, 2 400 nautical miles at 12 knots
Crew: 40 men
DIMENSIONS
Displacement: 436 tons (standard), 493 tons (full)
Length: 56.1 meters (overall), 49.5 meters (at design waterline)
Beam: 10.2 meters (overall), 8.74 meters (at design waterline)
Draft: 2.5 meters (at hull level, full load), 4.15 meters (at screw level)
POWERPLANT
2 x 4,000-shp diesel engines M-510, 2 x 12,000-shp gas turbines M-70; 2 propeller screws
ARMAMENT
1 x 1 76-mm gun mount AK-176
2 x 6 30-mm antiaircraft gun system AK-630
2 x 2 launchers of antiship missiles
Moskit
1 MANPADS
Igla