Combat Capability [42%]
,
Role and Missions
,
Structure of the Navy
,
in-service ships
,
surface ships
,
submarines
,
chronology
.
R-71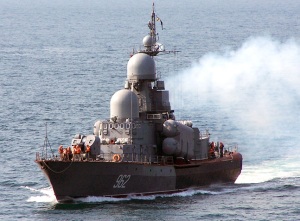 R-71.
flot.sevastopol.info
R-71 (hull number 962) is a Project 12411 missile boat designed for destruction of enemy warships, transport vessels, and amphibious means; air defense reinforcement of task units and single ships, coverage from attacks of enemy light forces.
REGISTRATION
Black Sea Fleet
CONSTRUCTION
Missile boat R-71 (serial number 201) was laid down at
Srednenevsky Shipyard
on August 12, 1981; put afloat on September 14, 1983. In October 1983, the boat was transferred via inland waterways to Kerch for outfitting. Then the Soviet naval ensign was hoisted on the boat, and she joined the Black Sea Fleet's 41-st Missile Boat Brigade on August 23, 1985.
In 1989-1992, the boat passed interim overhaul. Experimental prototype of the
Kortik
gun/missile antiaircraft system was replaced with the batch-produced one. Later, that system was dismounted.
MILESTONES
After trials, missile boat R-71 joined the fleet's permanent readiness force and carried out about 20 launches of antiship missiles.
By the order of Russian Navy Commander-in-Chief, R-71 was declared the best missile boat in the Navy, and in 1997 won the Black Sea Fleet Commander's Prize for best firing at sea targets. 
The boat took part in several Russian Navy Day parades in Sevastopol. In 1997, the boat effectively performed two-missile launch in the Bay of Sevastopol.
The boat serves in the 41-st Missile Boat Brigade based in the Karantinnaya Bay (Sevastopol). Currently, the boat is mothballed.
In their time, the following officers commanded the boat:
- Capt Lt Vasilchuk D.;
- Capt 3 Rank Klyauzov I.I.
PERFORMANCE
Speed: 42 knots (full)
Fuel range: 1,600 nautical miles at 20 knots
Crew: 41 men
DIMENSIONS
Displacement: 436 tons (standard), 493 tons (full)
Length: 56.1 meters (overall), 49.5 meters (at design waterline)
Beam: 10.2 meters (overall), 8.74 meters (at design waterline)
Draft: 4.36 meters
POWERPLANT
COGAG, 2 turbines 8,000 shp + 2 turbines 24,000 shp, 2 propeller screws
ARMAMENT
4 launchers of
Termit
antiship missiles (4 missiles P-15M)
1 x 76.2-mm gun mount AK-176
1 gun/missile antiaircraft system
Kortik
(8 missiles + 2 x 6 30-mm guns) – demounted