Combat Capability [42%]
,
Role and Missions
,
Structure of the Navy
,
in-service ships
,
surface ships
,
submarines
,
chronology
.
Alexander Shabalin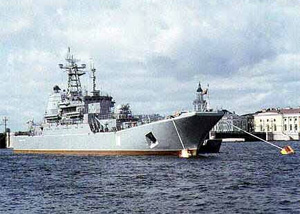 Alexander Shabalin
Alexander Shabalin
is a Project 775 Large Landing Ship (LLS)
REGISTRATION
Baltic Fleet
CONSTRUCTION, NAME
The ship was built in Gdansk (Poland) in 1985; commissioned in 1986. Initially, it was named
BDK-110
.
MILESTONES
On April 10, 2009 cable routing ignited at machinery hold. The ship was under scheduled repair at
Yantar
shipyard. The fire moved to cooling section; about 5 square meters scorched. The fire was extinguished by 12 fire trucks and 42 firefighters.
In April 2009 during mail checking, a birthday card was found with 9 pieces of pressed marijuana stuck inside. A criminal case was initiated.
PERFORMANCE
Speed: 18 knots
Operational range: 6,000 miles at 12 knots
Crew: 87 men
DIMENSIONS
Displacement: 4,080 tonnes
Length: 112.5 meters
Beam: 15 meters
Draft: 3.7 meters
PROPULSION
CODAD
powerplant, two screws, total power is 19,200 shp
ARMAMENT
2 coupled 57-mm gun mounts
AK-725
2 launchers of MLRS
A-215 Grad-M
4 launchers of MANPADS
Strela-2
Capacity is up to 500 tonnes of armor vehicles and 225 marines