Combat Capability [42%]
,
Role and Missions
,
Structure of the Navy
,
in-service ships
,
surface ships
,
submarines
,
chronology
.
Smetlivy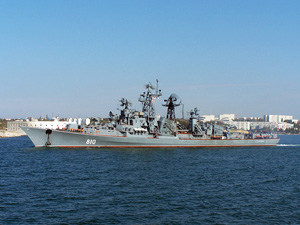 Smetlivy
.
flot.sevastopol.info
, A. Brichevsky
Smetlivy
is a Project 01090 destroyer.
REGISTRATION
Black Sea Fleet
CONSTRUCTION, NAME
The ship was laid down on July 15, 1966 at 61 Communards Shipyard (Nikolayev) as a Project 61M large ASW ship; launched on August 26, 1967; commissioned on October 21, 1969.
MILESTONES
In 1970's the ship visited Syria, Yugoslavia, Bulgaria; in 1980 Ц Tunisia.
In 1990-1995 the ship was remanufactured under Project 01090.
In 2003 the ship within the Black Sea Fleet task force participated in ocean exercise along with Pacific Fleet and Indian Navy.
In 2011, the ship accompanied by rescue ship
Epron
was on cruise to the Mediterranean Sea since Oct 30 till Nov 21. During the deployment, BSF mariners visited Italian ports of Augusta and Taranto, and participated in the
IONIEX 2011
Russian-Italian naval exercise held in the Ionian Sea.
Since March 31 through May 31, 2012 the ship was on patrol in different parts of the Mediterranean Sea, particularly near Syria, having covered over 11,000 nautical miles.
BASIC CHARACTERISTICS
Displacement: 4,460 tons
Length: 144 meters
Beam: 15.8 meters
Draft: 4.57 meters
Speed: 39 knots
Crew: 266 men
ARMAMENT
2 quadruple launchers of
Kh-35 Uran
antiship missiles
76-mm twin gun mount
AK-726
2 coupled launchers of
Volna
SAM system (16 missiles)
5 x 533-mm torpedo tubes (5 torpedoes)
2 ASW rocket launchers
RBU-1000