Combat Capability [42%]
,
Role and Missions
,
Structure of the Navy
,
in-service ships
,
surface ships
,
submarines
,
chronology
.
Soobrazitelny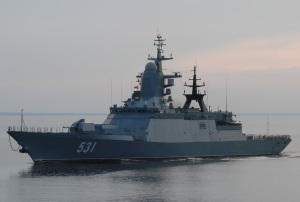 Soobrazitelny.
RusNavy.com
Soobrazitelny
is a Project 20380 multipurpose littoral zone ship (corvette).
REGISTRATION
Baltiysk Naval Base, Baltic Fleet.
CONSTRUCTION
The ship was laid down at
Severnaya Verf
shipyard on May 20, 2003 in St. Petersburg; launched on March 31, 2010.
MILESTONES
On July 11, 2011 the ship took the sea for the first time to hold
sea trials
.On October 14, 2011 the ship was
commissioned into Russian Navy
.
On October 12, 2011 Cyril the Patriarch of Moscow and All Russia consecrated an icon-stand in the name of St. Andrew the First-Called for Baltic Fleet corvette
Soobrazitelny
by order of the Omofor regional charity fund. The ceremony took place at the square opposite the St. Alexander Nevsky Cathedral in Baltiysk, Kaliningrad region.
On July 29, 2012 corvette
Soobrazitelny
obtained the honorable Guards title by decree No. 64 issued by Russian Navy Commander-in-Chief on March 1, 2012. The solemn
Guards naval ensign hoisting
ceremony was held onboard
Soobrazitelny
after naval parade on the Russian Navy Day.
PERFORMANCE
Speed: 30 knots
Fuel range: 3,500 nautical miles at 14 knots
Complement: 99 men
DIMENSIONS
Displacement: 2,200 tons
Length: 103.7 meters
Beam: 13 meters
Draft: 8.6 meters
PROPULSION
Two-shaft CODAD powerplant, overall power 17,140 KW
ARMAMENT
2 quadruple launchers of
Uran
missile system
SAM system
Redut
(12 surface-to-air missiles)
2 x 4-tube
Paket
330-mm anti-torpedo launchers
100-mm gun mount A-190
Kortik-M
air defense missile/gun system
MANPADS
Igla
2 x 6-barreled 30-mm gun mounts AK-630M
2 grenade launchers DP-64
Heliport for Ka-27 helicopter