Combat Capability [42%]
,
Role and Missions
,
Structure of the Navy
,
in-service ships
,
surface ships
,
submarines
,
chronology
.
Tatarstan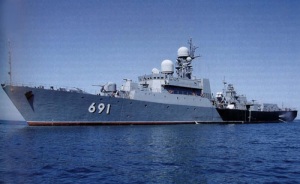 Tatarstan. Central Military District Press Service
Tatarstan
(serial number 691) is a Project 11661
Gepard
frigate. Ships of this series are built by JSC
Zelenodolsk Shipyard
. The frigate is designed for antisubmarine/antisurface/antiaircraft warfare, patrolling, escort operations, and protection of maritime economic zone. The ship is armed with gunnery, antiship, antiaircraft, and antisubmarine weapons.
REGISTRATION
Caspian Flotilla. City of Makhachkala
CONSTRUCTION
The ship was laid down in May 1990 at JSC
Zelenodolsk Shipyard
; launched on July 1, 1993.
MILESTONES
The frigate was commissioned on August 31, 2003. She is a flagship of Caspian Flotilla.
In October 2-16, 2012 the ship was deployed to central and southern parts of the Caspian Sea and secured Russia's maritime economic activities. 
PERFORMANCE
Full speed: 28 knots
Cruising speed: 21 knots
Economic speed: 14 knots
Operational range: 950 nm (at 27 knots); 3,500 nm (at 14 knots); 4,000 nm (at 10 knots)
Endurance: 15-20 days
Crew: 93 men
DIMENSIONS
Displacement: 1,500 tons
Length overall: 102.1 meters
Beam overall: 13.1 meters
Height: 5.3 meters
Draft with sonar: 3.6 meters
Draft without sonar: 3.6 meters
PROPULSION
Two-shafted powerplant, 1 cruising-speed diesel 61D (8,000 shp), 2 full-speed turbines (29,000 shp), overall power of electric generators - 1,800 kilowatt
ARMAMENT
Radar arms
:
MR-352
Pozitiv
Fire control radar
Monolit
(antiship missiles)
Fire control radar MPZ-301
Baza
(SAM system)
Fire control radar MR-123
Vympel
(gun mount)
Electronic warfare system
Radio electronic arms
:
2 decoy launchers PK-16
Gunnery
:
1 x 76-mm gun mount AK-176
2 x 6 30-mm gun mounts AK-630M
2 x 2 14.5-mm machineguns KPVT
Antiship arms
:
2 x 4 antiship missile launchers Kh-35
Uran
/
Caliber-NK
Antisubmarine arms
:
2 x 2 533-mm torpedo tubes
1 x 12 antisubmarine rocket launcher RBU-6000
Antiaircraft arms
1 SAM system
Osa-MA
— 20 missiles 9M33
2 MANPADS
Igla-M
Air wing
1 antisubmarine helicopter Ka-27