Combat Capability [42%]
,
Role and Missions
,
Structure of the Navy
,
in-service ships
,
surface ships
,
submarines
,
chronology
.
Petr Veliky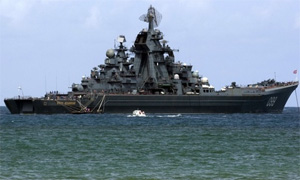 Petr Veliky. Photo: aktualne.centrum.cz
Petr Veliky (Peter the Great)
is a Project 11442 Heavy Nuclear-powered Guided Missile Cruiser; flagship of Northern Fleet; world's largest non-carrier attack ship (as of 2008).
REGISTRATION
Severomorsk, Northern Fleet
CONSTRUCTION, NAME
Petr Veliky
was laid down on April 25, 1986 at Baltic Shipyard with the name of
Yury Andropov
and launched on April 25, 1989. It joined the Navy in 1988 under the name of
Petr Veliky
.
MILESTONES
On October 27, 1996 during trials at Polar region the steam pipe was ruptured in the cruiser's fore engine and boiler compartment. Five sailors and delivery board members died.
Best Russian Ship-2000 on results of training year.
Awardee of Navy Commander's Prize on results of 2002 training year.
Best ship of Northern Fleet on results of 2003 training year.
In December 2008 the cruiser participated in
VENRUS-2008
, Russian-Venezuelan joint naval exercise. On February 13, 2009 it arrested 3 vessels in the Gulf of Aden with 10 Somali pirates.
Baltic Shipyard provides maintenance service of the cruiser despite warranty period is expired. This precedent has no parallel in history.
PERFORMANCE
Propulsion: CONAS; 2 steam turbines and nuc reactor; 140,000 hp
Speed: 31 knots
Endurance: 60 days for provisions and supplies, 3 years for fuel (unlimited for nuc reactor)
Crew: 655 men
DIMENSIONS
Length: 251.1 meters
Beam: 28.5 meters
Height: 59 meters
Draft: 10.3 meters
Standard displacement: 23,750 tonnes
Total displacement: 25,860 tonnes
ARMAMENT
AK-130
dual-mount 130-mm multipurpose turret artillery system
20
SM-233
separate underdeck vertical launchers
12 launchers (96 missiles) of
Rif
zonal AD system
2 eight-tube containers of
Klinok (Kinzhal)
short range and close-in AD system; 6 3M87
Kashtan (Kortik)
combined missile and artillery AD systems
2
RPK-6M Vodopad
533-mm ASW missile and torpedo systems
RKPTZ-1 Udav-1M
antitorpedo system
RBU-12000
and
RBU-1000 Smerch-3
antisubmarine rocket launchers
2
PK-14
coupled 150-mm launchers (decoy launch system)
2
Ka-27 Helix
heavy multipurpose helicopters