Combat Capability [42%]
,
Role and Missions
,
Structure of the Navy
,
in-service ships
,
surface ships
,
submarines
,
chronology
.
Admiral Vinogradov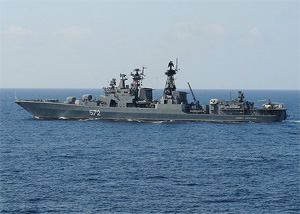 Admiral Vinogradov. Photo by farm4.static.flickr.com
Admiral Vinogradov
is a Project 1155 large ASW ship.
REGISTRATION
Pacific Fleet
CONSTRUCTION
The ship was laid down on February 5, 1986 at
Yantar
Shipyard (Kaliningrad) and launched on June 4, 1987. It was commissioned on May 1, 1989.
MILESTONES
In 1990 the ship visited port of San Diego, US. On January 11, 2009
Admiral Vinogradov
shifted frigate
Neustrashimy
at anti-piracy watch in the Gulf of Aden. On its return cruise the ship called at Yemeni port Aden, Indonesian port Jakarta and Chinese port Zhanjiang. The ASW ship returned to Pacific Fleet base in Vladivostok in the middle of April.
BASIC CHARACTERISTICS
Speed: 29.5 knots, cruising Ц 14 knots
Crew: 293 men
Total displacement: 7,480 tonnes
Standard displacement: 6,840 tonnes
Length: 163 meters
Beam: 19 meters
Draft: 7.8 meters
ARMAMENT
8
Rastrub
rocket torpedoes
6-26 mines
8
Kinzhal
SAM launchers (64 missiles)
2
Ka-27
helicopters