Combat Capability [42%]
,
Role and Missions
,
Structure of the Navy
,
in-service ships
,
surface ships
,
submarines
,
chronology
.
MPK-7 Onega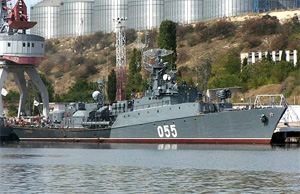 Project 1124M ship. Photo by A. Brichevsky (flot.sevastopol.info)
MPK-7 Onega
is a Project 1124M Small ASW Ship (SAS).
REGISTRATION
Northern Fleet
CONSTRUCTION, NAME
The ship was laid down in 1990 at Zelenodolsk shipyard; launched and commissioned in 1991.
MILESTONES
In 2007 the ship was laid up for recovery of technical operability; its service life was prolonged.
Before repairs, the ship every year participated in the fleet's head-quarter and tactical training exercises.
The ship is currently under repair.
PERFORMANCE
Speed: 35 knots
Operational range: 2,700 miles
Crew: 89 men
DIMENSIONS
Displacement: 930 tonnes
Extreme length: 71.07 meters
Extreme beam: 10.15 meters
Extreme draft: 3.71 meters
PROPULSION
Diesel gas turbine
M-8M
18,000 shp gas turbine
GTU-8
2 diesels
M-507A
, total power 20,000 shp
3 diesel generators (
DG-500, DG-300, DG-200
), total power 1,000 kW
ARMAMENT
76-mm gun mount
AK-176
30-mm gun mount
AK-630M
Osa-MA
SAM launcher
2 coupled 533-mm torpedo tubes
RBU-6000
antisubmarine rocket launcher
12 depth bombs or 18 mines