Combat Capability [42%]
,
Role and Missions
,
Structure of the Navy
,
in-service ships
,
surface ships
,
submarines
,
chronology
.
Part I. The story of Soviet carriers
Having own navy is always not only a matter of prestige but also an actual necessity. But today only few countries have scientific engineering and production potential to design and build warships independently. The Soviet Union did have a plenty of such capabilities.
Soviet Navy had in inventory five heavy aircraft-carrying cruisers (HACC) –
Kiev, Minsk, Novorossiysk, Baku
, and
Admiral Flota Sovetskogo Soyuza Kuznetsov
. Two more ships –
Varyag
and
Ulyanovsk
were on the slipways. Unfortunately, most of them faced an unenviable fate.
Early 2004 an entertainment center was opened on board
Kiev
. In Tianjin, China…
Minsk
also became a "disneyland" but in Shenzhen, Hong Kong.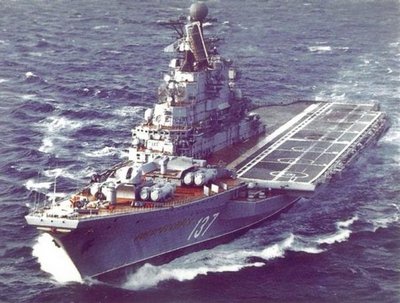 HACC
Novorossiysk
.
nn.ru
HACC
Novorossiysk
was sold as scrap for about $4 mln to S Korean Young Distribution Co. in January 1996 and then towed to Chusan (South Korea).
The fate of the fourth cruiser –
Baku
– which bore the name of
Admiral Flota Sovetskogo Soyuza Gorshkov
in the end of service in Russian Navy was comparatively lucky. She was neither scrapped nor given to Chinese kids. According to package intergovernmental agreement signed in January 2004 in New Delhi, the cruiser's hull was handed over to India for free providing that the vessel would be upgraded at
Sevmash
shipyard and armed with Russian-made air group. Russia was also obliged to train 1,500-men Indian crew of the carrier and create basing infrastructure in the Indian Ocean. Capitally modernized and retrofitted,
Admiral Gorshkov
will soon join Indian Navy under the name of
Vikramaditya
(in Hindi stands for "Mighty as the Sun").
Being of the same project as
Kuznetsov
,
Varyag
was sold by Ukraine to China at the price of scrap metal. Currently, she stays at Dalian (or Dalny, outskirts of Port Arthur) being redesigned into training ship. Deck-based aviation pilots of "the Celestial Empire" will practice their skills there. According to a Chinese defense official, the ship is to become "a symbol of national power and competitiveness of Chinese Navy". Reportedly, the carrier has obtained a new name –
Shi Lang
– in honor of Chinese military leader of 17th century. However, the retrofitting is dragged along; being inexperienced in building of aircraft carriers, the Chinese faced big problems. Nonetheless, having in mind the legendary eagerness of the Chinese, one involuntarily believes that Chinese Navy will soon have own "floating airfields".
Ulyanovsk
even failed to touch the sea. On November 1, 1991 when financing was over, construction of the 20%-completed ship was abandoned. In February 1992 then-president of Ukraine Leonid Kravchuk ordered to dismantle the cruiser's hull. As a matter of fact, that ship was supposed to become our first nuclear-powered aircraft carrier equipped with catapults. With completion of
Ulyanovsk
, we could reach the crucially new level of shipbuilding and finally draw up technological capabilities with the U.S.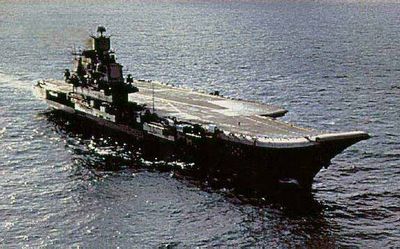 Aircraft-carrying cruiser
Admiral Kuznetsov
.
norge.ru
In a word, today Russian Navy has only one aircraft carrying cruiser under its belt –
Admiral Kuznetsov
. Unfortunately, we can't call this ship an aircraft carrier in the ordinary sense of the word, since arming with attack missile system
Granit (Shipwreck)
caused reduce in air group comparing to "classic" carriers with similar displacement. Besides, technical status of
Kuznetsov
despite continuous overhauls leaves much to be desired. So, the need for a new full-fledged aircraft carrier becomes more and more urgent.
Read more
Table of contents
Part I. The story of Soviet carriers
Part II. Ideological bomb
Part III. And so the need was swelling…
Part IV. What kind of carriers and fighters do we need?
Part V. Catapult or ski-ramp?
Part VI. Choosing designer and shipyard
Part VII. Renewed Navy headed by a carrier