Combat Capability [42%]
,
Role and Missions
,
Structure of the Navy
,
in-service ships
,
surface ships
,
submarines
,
chronology
.
Part VI. Choosing designer and shipyard
In the light of foregoing facts, one of the most topical questions is who will project a new carrier after all. In Soviet times, an "all-Union design centre" for surface warships was Leningrad. Particularly, all Soviet heavy aircraft-carrying cruisers were developed by
Nevskoye
Design Bureau; ships of main classes like destroyers, large ASW ships, and guided missile boats were projected by
Severnoye
Design Bureau, and gunboats, air-cushion landing craft – by
Almaz
Central Design Bureau.
Obviously, with all due deference to
Almaz
bureau, it cannot deal with a carrier because of different specialty. At first sight, it seems quite logic to give the order to
Nevskoye
bureau. However, this once mighty design bureau suffered most heavily due to the lack of governmental financing in the years of "stagnation". Now even designers of
Nevskoye
bureau confess they're not able to kick off development of a new carrier.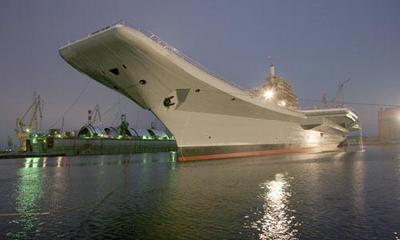 Aircraft carrier INS Vikramaditya.
nworker.ru
During the recent years
Nevskoye
Design Bureau is engaged in project support of aircraft-carrying cruiser
Admiral Gorshkov
being upgraded for Indian Navy, and renders assistance to Republic of India in design of air-technical facilities. Full-scale design works on development of new aircraft carriers were shut down almost twenty years ago with the collapse of the Soviet Union. Consequently, invaluable carrier-designing experience which had been accumulated by the bureau's staff in 60's-80's gradually falls into oblivion. Many skilled experts quitted the job, and the young shift unfortunately has not obtained required experience and knowledge so far. Indeed, without any real work for almost two decades, where would that expertise come from?
Thus and so, development of new Russian aircraft carrier is practically impossible without involvement of
Severnoye
Design Bureau. Staff affairs of this organization are better, since it was in more favorable conditions at troublous times of 90's. Today about 500 professionals work in main production departments of
Severnoye
bureau; they execute all procedural nomenclature. 90 per cent of them have special higher education, and 50 per cent have over 20-year long time record. Many employees are Doctors of Engineering and Candidates of Science.
Even in "rainy days" of 90's
Severnoye
Design Bureau had been executing contracts tied both with Russian Navy and foreign partners. Four destroyers for China and three frigates for India were successfully delivered; another trio of Indian frigates is presently being built. As of today,
Severnoye
Design Bureau has accumulated a wealth of experience in engineering design and – the foremost – delivery of nuclear-powered ships. By the way,
Nevskoye
bureau has not progressed farther than ink on the paper.
Severnoye
bureau has in disposal an automated ship design engineering system which constitutes an integrated software-and-hardware complex. It is based on
FORAN
system and 25 applications. That system prepares all needed documentation at any design stage to be handed over to a shipyard in electronic format.
High scientific and technical potential, advanced production facilities, availability of qualified personnel, and established partnership with leading research and development centers and shipbuilding companies help
Severnoye
Design Bureau to create high-tech, science-driven and competitive military products, and rapidly react on challenges of the present day and requirements of Russian Navy. Undoubtedly,
Severnoye
Design Bureau is capable to accomplish the mission of national importance, i.e. to design a nuclear-powered aircraft carrier.
However, taking into account considerable experience of
Nevskoye
bureau in aircraft carrier design and good deal of groundwork in this area, it stands to reason that efforts of both design bureaus should be pooled together.
Nevskoye
bureau could take a part of aircraft carrier design works. It is not improbable that foreign companies (THALES, for instance) would be also involved as partners. They could assist us in areas where our country either doesn't have or lost appropriate technologies. Again,
Severnoye
Design Bureau should lead the tandem because of its greater potential.
There is another fact counting in favor of such decision. Today the question is not a single carrier but development of more complicated and all-around structure – aircraft carrier force integrating a carrier itself, escort ships (including destroyers which fire power and displacement are comparable to cruisers of the recent age), and supply vessels which projects were numerously developed by
Severnoye
Design Bureau.
All those ships will form a unified structure and closely interact with each other both in wartime and peacetime. Creation of all them under the direction of one "master" will unify and harmonize constructive and process solutions in a maximum way, substantially reduce operating expenditures, simplify crew training, and sensibly cut down cost and leadtime of the program in general.
It bears reminding that
Severnoye
bureau has a certain experience in designing of aircraft-carrying ships. For instance, in 1986-1990 the bureau developed draft designs of projects
Delfin
and
Mercury
– small-size aircraft carriers, including small-waterplane-area-twin-hull ships (SWATH) which were well in advance of their time.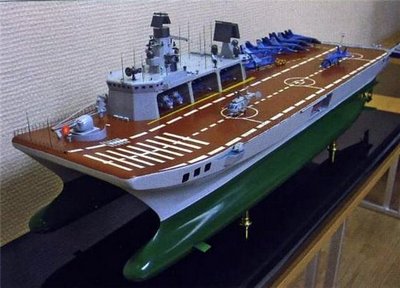 Model of SWATH aircraft-carrying ship developed by Severnoye Design Bureau late 80's.
fai.org.ru
Another matter of great importance is a carrier-building shipyard. It was not a problem in the Soviet era, as the Union included Ukrainian Republic with its
Chernomorsky
shipyard capable to build aircraft-carrying ships. With the collapse of the superpower, the yard fell under control of the independent Ukraine which is currently unable to use productive capacities of the hoboing shipyard.
Nonetheless, as the phrase goes, every cloud has its silver lining. While retrofitting
Admiral Gorshkov
for India, Sevmash shipyard mastered radically new processes and technologies, as well as acquired invaluable experience.
Nowadays, the greater part of Russian defense shipbuilding is concentrated in Severodvinsk around
Sevmash
and
Zvezdochka
shipyards. Overwhelming majority of Russian strategic and attack submarines are being built and repaired there.
Late 2008 media sources reported referring to Nikolai Kalistratov, director general of
Sevmash
that the shipyard had already started modernization of its production to be oriented on construction of aircraft carriers. According to Mr. Kalistratov, "a large-block assembling procedures will be applied while building of ships and marine installations. We will assemble pipes and equipment into 900-1,200 ton blocks at our workshops, and paint them. Then those blocks will be mounted on a ship. With this end in view, a shipyard's basin will be upgraded, and a crane with weight-lifting capacity 1,200 tons will be installed".
It should be pointed out that
Sevmash
has been always considered as a main Russia's carrier-builder. That was said, for example, by Vyacheslav Popov, the chairman of Parliamentary Commission for National Maritime Policy; according to him, shipbuilding orders for aircraft-carrying cruisers can be placed at
Sevmash
shipyard.
To tell the truth,
Sevmash
is anything but ideal site for building, repairing, and much less for basing of aircraft carriers. To compare,
Newport News
where US nuclear-powered carriers are built rarely sees sub-zero temperatures in winter. But unfortunately, we don't have other alternative. Construction of a new yard at the Far East would cost considerably greater than restructuring of
Sevmash
, because there conditions are incomparably worse than in Arkhangelsk region. Also, there is no point to re-orient St. Petersburg shipyards for carrier-building because of different economic, geographic, and political reasons. It is more reasonable to use those yards for the purpose specified – cruisers, destroyers, and frigates.
Read more
Table of contents
Part I. The story of Soviet carriers
Part II. Ideological bomb
Part III. And so the need was swelling…
Part IV. What kind of carriers and fighters do we need?
Part V. Catapult or ski-ramp?
Part VI. Choosing designer and shipyard
Part VII. Renewed Navy headed by a carrier