Combat Capability [42%]
,
Role and Missions
,
Structure of the Navy
,
in-service ships
,
surface ships
,
submarines
,
chronology
.
Part III. And so the need was swelling…
So, what kind of carrier do we need? First, let us make a retrospective journey into the history. Aircraft carriers and ships equipped with onboard hydroplanes premiered as early as during World War I. Even at that time those ships had tasks which have become classic for many years – reconnaissance, delivering strikes upon sea and coastal targets, and later – fighter cover of a task force and antisubmarine search. World War II and especially its Pacific campaign proved irreplaceability and universality of aircraft carriers which took part almost in all large-scale naval operations.
In the ensuing years carriers were effectively used in Korean and Vietnam wars, Indo-Pakistani War of 1971, the Falklands Crisis, Gulf Wars of 1991 and 2003 and other armed conflicts.
The Soviet Navy experienced variety of problems with development of aircraft carriers. In 20's and 30's this issue was raised at governmental level and appropriate items were included into plans, but for a number of objective and subjective reasons those wishes had not been realized. And in postwar years the country was too tired and too poor to build carriers. At first, there was need to regenerate the economy and sad remains of prewar fleet.
However, things reversed in the second postwar decade. Never feel an affection towards the Soviet Union and always ready to unleash a new war, the U.S. started to treat the World Ocean as a very comfortable training range to launch nuclear-headed ballistic missiles from subs. Introduction of first American SSBNs armed with
Polaris
missiles capable to hit targets at a distance up to 2,200 km constituted a great problem to Soviet Navy command. The solution was to organize long-range antisubmarine defense and surface ASW watches at the opponent's submarine patrol areas.
It was obvious that such mission could have been only effectively accomplished by use of deck-based aviation. So, the issue was to equip surface ships with ASW helicopters which were the only aerial vehicles capable to land on unspecialized platforms. First ships of such class with one helicopter on board became Project 61 large ASW ships; the lead ship –
Komsomolets Ukrainy
– was commissioned on December 31, 1962. Those ships were designed in Northern Planning and Design Bureau (then
TsKB-53
) in Leningrad.
Project 1123 ASW cruiser
Moskva
.
russiaflot.ru
However, systematic analysis of different assets of long-range antisubmarine defense demonstratively proved that ships with group of ASW helicopters would provide effective warfare against nuclear-powered ballistic missile submarines. Those ships could arrange rotational continuous search of a submarine by helicopter team during several days; with the beginning of wartime those ASW ships could destroy enemy's subs in cooperation with other forces.
As a result of further researches, two unique ships of Project 1123
Moskva
joined our Navy in 1967 and in 1969. The third ship – modernized version of this project – was also supposed to appear but failed due to development of Soviet vertical takeoff and landing aircraft (VTOL).
Yak-36
VTOL combat aircraft performed first vertical takeoff and landing away back on February 7, 1966, half year earlier than British
Harrier
. One year later, a governmental decree was issued to develop new light aircraft – future
Yak-38
which was initially named
Yak-36M
. It conducted first deck landing on
Moskva
in November 1972.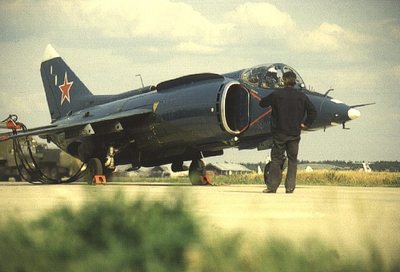 Yak-38.
snariad.ru
That plane was designed as a light attack VTOL aircraft. Its main purpose was antiship warfare and (as possible) destruction of AWACS and ASW aircrafts and uncovered ASW helicopters. It should be pointed out that our first "verticaller" was not assigned with task force air defense.
Shortly after Leonid Brezhnev became a national leader, a triumvirate was formed in Soviet government who understood the role and place of an aircraft carrier in modern navy. They were A.A. Grechko, defense minister, B.E. Butoma, minister of shipbuilding industry, and S.G. Gorshkov, Soviet Navy Commander-in-Chief. They became the ones to patronize project development of classic catapult-type aircraft carrier for our Navy. The necessity of works was caused by impossibility to handle a problem of surface task forces' combat stability while use of VTOL aircrafts, which were severely limited in capabilities at that time.
However, things were not going on so swimmingly. The weather went bad because of D.F. Ustinov, deputy chairman of Council of Ministers for defense industries. As for him, Soviet Union lagged behind the U.S. in development of aircraft carriers, and could not rapidly create a steam catapult (which is the key element of such ships). On this basis, he recommended to focus on VTOL aircrafts as an alternative area in deck-based aviation in which nobody were a leader. In the abstract, we could gain the lead.
In such a manner, originally our aircraft-carrying ships (due to their primary purpose and related strength of air group) were assigned with limited scope of tasks accomplished by aviation – search and destroy of submarines. Later on, with evolution of 1st generation of VTOL aircrafts
Yak-36M
and
Yak-38
, tasks of carriers were supplemented with delivery of air strikes upon sea surface and land targets, and air support of landing operations.
The situation could have been fundamentally changed with creation of multirole supersonic
Yak-41M
VTOL aircraft (later known as
Yak-141
). In particular, it was planned to equip the third Project 1143 heavy aircraft-carrying cruiser
Novorossiysk
with those planes, and to develop subsequent carriers (beginning from the fourth one) taking into account catapult-launched conventional aircrafts.
The first-ever multirole supersonic
Yak-141
VTOL aircraft was designed for interception of aerial targets, gaining air dominance, and attacking various sea surface and land targets. There was a belief that
Yak-141
would have combat capabilities comparable to those of
MiG-29
while having twice less flight range (in VTOL mode).
Development of an aircraft was launched in 1975. The work was slack and slow. As a result, in 1991 (on the eve of USSR's breakup) the decision of serial production of
Yak-141
was postponed, governmental financing of the program first dropped down and then was cut off at all in 1992.
As noted above, after the third Project 1143 carrier was built it was planned to push construction of full-fledged Project 1153 aircraft carriers equipped with catapult-launched conventional aircrafts. Instead of that, however, Project 1143.4 aircraft-carrying cruiser
Baku
(later renamed into
Admiral Flota Sovetskogo Soyuza Gorshkov
) was laid down at
Chernomorsky
Shipyard in Nikolayev in 1978, which was an evolution of Kiev.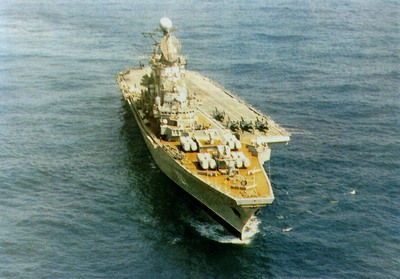 Aircraft-carrying cruiser
Admiral Flota Sovetskogo Soyuza Gorshkov
.
crazys.info
crazys.info Then the "seesaw" debates about appearance of new carrier were seriously complicated both by numerous and unpredictable requirements of Navy Commander and permanent pressing of defense minister. Disunity in governmental authorities, incompetence of some high-powered officials, and their constant interference in the development process made not a good contribution to quality and terms of works. Views on the strength of an air group, air-technical equipment, displacement, main propulsion plant were revised many times … As a result, in 1990 our Navy received a Project 1143.5 aircraft-carrying cruiser which had been laid down eight years ago and was finally armed with VTOL aircrafts. However, despite significantly enhanced air group, that ship again was not a classic aircraft carrier but another aircraft-carrying cruiser armed aside from aircrafts and helicopters with powerful missile attack systems (of course, to the detriment of shipborne air group)…
Read more
Table of contents
Part I. The story of Soviet carriers
Part II. Ideological bomb
Part III. And so the need was swelling…
Part IV. What kind of carriers and fighters do we need?
Part V. Catapult or ski-ramp?
Part VI. Choosing designer and shipyard
Part VII. Renewed Navy headed by a carrier